Attachment Chains are specially designed for application and different designed attachments are attached to Bush Roller Chain and so named Attachment Chain. These chains are suitable for short conveying system. The plate of chain can be designed with hole, bended in angle or straight fitted to Rollers and Pin assembly. Material of construction for these chains can be Mild Steel, Stainless Steel and Carbon Steel etc.

These Attachment Roller Chains are available in outboard roller, flange roller, double roller, Extended Pin type duly fitted with different type of integral and welded attachments( K1 , K2 , F1 , F2 , M1 , M2 , G1 , G2 , SA1 , SA2 etc. ) at certain calculated distance as per requirements. Drag Chain, Scrapper Chain, Apron Chain, Stainless Steel Drive Chain or Nickel & Zinc plated Attachment Conveyor Chains are commonly used and can be manufactured to withstand and resist wear in corrosive application environment
Features of Attachment Chain:

•

Due to the small pitch of these chains, the drive design is smaller.

•

Usually sprockets with a large number of teeth are used. Therefore, the chain speed does not vary significantly, and the chain engages with sprockets with less noise.

•

These chains may be used for high-speed conveyors.

•

A wide variety of standard attachments and special attachments are possible for this chain series.

•

Slip-fit, spring-clip type connecting links can be provided.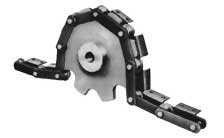 Bended Attachment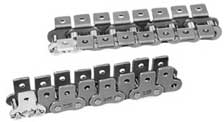 Bended & Straight Attachments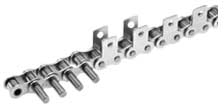 Single & Double Combination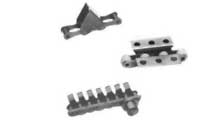 Special Design Attachment Link Chains