Leaf Chains are used for fork lift masts, as balancers between head and counterweight in machine tools, or for low-speed pulling (tension linkage). This type of chain is also called "Balance Chain," and is regulated by ANSI. In roller chains, all the link plates have higher fatigue resistance due to the compressive stress of press fits. In Leaf Chains, only two outer plates are press fit. Therefore, the tensile strength of Leaf Chains is high, but the maximum allowable tension is low. It is advisable to use safety guards at all times, and be particularly alert to assure the safety factor.
Leaf chains are made especially for applications requiring flexible, high strength tension linkages for reciprocating motion devices. These chains operate over sheaves rather than sprockets and are often found on fork lift trucks, or as counter-weight chains for machine tools or similar balancing applications. These chains are usually supplied cut-to-length and may be supplied with "male" (inside link) or "female" (outside link) ends. Chains to be supplied in an even number of pitches possess one female and one male end. If an odd number of pitches are required please specify whether the ends should be "male" or "female". The type of clevis used will determine the end style required.
There basically two type of series are manufactured named AL Series and BL Series. AL Series Leaf chains are made for light duty applications. It is recommended that when designing for new applications the "BL Series" to be specified as the ANSI organization has discontinued the AL Series. In the future AL series chains will become rare in application. BL Series Leaf chains are made for moderate to heavy duty lifting applications. Pins and link plates of the BL Series are made from one size larger ANSI chain to allow for operation in moderate to heavy load applications.
The range of leaf chain for material handling applications is used worldwide for straddle carriers, fork lift trucks and on major civil engineering works such as flood defense barriers.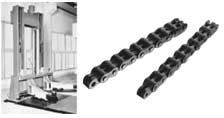 Leaf Chain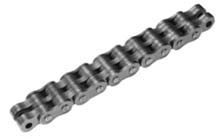 Leaf Chains

Leaf Chain Construction