Enrober Belts are made of stainless steel wire of spring wire. Wire diameters varies from 0,9 until 2,8 mm. Pitches from 4 mm until 19,05 mm, and belt widths from 10 mm until 3 metre. We can develop a big range of standard dimensions, and also can manufacture all the (non standard) dimensions too because of the multi adjustable production machinery. Belts executed with single loop (most common) or double looped edges for special occasions.
Enrober Belts can be made for straight conveyors and for curve conveyors. Enrober Belts can be equipped with little cams, or with special formed internal wire to carry the product on a special way. The very small 'chains' are used in spreader conveyors.
Enrober Belts are normally driven by toothed sprockets, made of (stainless) steel or plastic. These sprockets are made to fit the belt and are adapted to the diameter you wish. The number of teeth is free to choose and can be made for every new or existing conveyor.
Enrober Belt is made from pre shaped wires with the same form, weaving together. The standard execution of a single looped edge belt is most common and double looped edge (only small pitches, and wire diameter from 0,9 until 1,2 mm) belt are suitable for straight conveyors. The belt is determined by the pitch (P) de wire diameter (D), the number of the spaces and the dimensions of these spaces (E and F). The looped edge (G) is determined by the wire diameter. The width of the belt is free to choose.
Application of Enrober Belts is often in conveyors for the food industry for the production of

•

snacks

•

meat

•

fish

•

candy

•

pizzas

•

small potatoes

•

vegetables

•

biscuits

•

bread

•

chocolate

•

pastry

•

nuts and fruits
Enrober Belts are also used on other industries to convey products like little parcels in packing and plasticization machinery.Enrober Belts are an effective choice for a wide variety of light duty applications in metal working, food processing and other industries.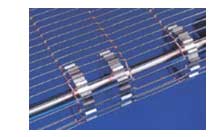 Enrober Belt with Metallic Sprocket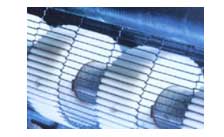 Enrober Belt with Plastic Sprocket